Kid's Martial Arts Perth
At WestStar we teach martial arts designed specifically for children. It's a practical, fun, easy to learn system that instils the fundamentals of Martial Arts technique, self defence, confidence, discipline, respect, and focus.
In our kid's martial arts classes they will learn a combination of punches, kicks, and self defence moves developed from Taekwondo, Kickboxing, Judo and Ju Jitsu. These techniques have been combined and refined over decades into the system we teach, Northstar Ju Jitsu.
Bright Stars (5-8 yrs)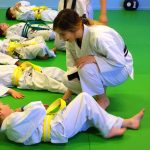 In our Bright Stars program children learn the fundamentals of kid's martial arts and self defence. This program has been especially developed for 5 to 8 year olds as they start their journey to becoming young adults.
The classes will keep them physically fit and help with the benefits of good behaviour, teamwork, good manners, patience and trying their best. The program covers valuable lessons on bullying and stranger danger.
So much more than just kicking and punching, our aim is to develop the habits of winners early. Developing an "I CAN" attitude and having that constantly reinforced in class opens the door to the gift of self esteem, confidence, and self respect that will stay with your child for life.
It's important that children develop these strong core values early in life to prepare them for the challenges ahead, so start your kids kicking today!
Super Stars (9-14 yrs)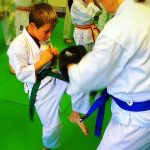 Our Super Stars program is a dynamic and fast paced martial arts and self defence workout. Designed especially for 9 to 14 year olds, students learn excellent martial arts skills from several disciplines.
We place a very strong emphasis on developing leadership, individual responsibility and the philosophy of Martial Arts.
This is an outstanding program for children as they develop into young adults. Being around strong leaders and role models mentors the development of strong values and morals.
From early in the program considerable emphasis is given to overcoming difficulties that may enhance negative behaviour. Our aim is to give your child the best shot at learning and maintaining a 'winners attitude' long term, and learning how to apply that same formula to everything they do.
Ready To Start Your Child's Martial Arts Journey?